Welcome to Knockerball Michigan!

Amazing parties! Perfect For Team Building, Birthday's, Bachelor and Bachelorette parties!
We Host The Best Entertainment Out There! Want Your Team Engaged? Want To Knock Over Your Friends, Family, or Co-Workers? We Take You Through Several Different Organized Games That Are Hilarious To Watch And Amazing To Play. Parties Are Private, With Your Own Event Coordinator And Are Available Everyday By Appointment. Great For Adults And Kids. Located in Livonia, or we can come to you!
734-223-2819
We only do Knockerball, and you'll be paired with a referee who will make sure your group is fitted in properly, shown how to use the Knockerballs, and then will go over rules and referee several different awesome games that we've created to maximize the experience! It's 5 stars, and we will take care of everything to make sure your time is a hit!
We open 24/7 by appt 1 group at a time.
you get the whole building to yourself!
Last minute reservations ok!
Call or text 734-223-2819 to book!

Everyone gets their own assigned sanitized protective bubble! We facilitate games for you the whole time! Great for kids and adults!
Need a hard working & charismatic person to join our family business hosting/refereeing parties and maintaining the building. Hours are mostly Saturday and Sunday. $14 per hour plus tips! email us your resume to get started now!
Kids parties are the best at Knockerball Michigan!
We have the best parties you can book! You'll play organized games the whole time, led by us, on a private field with just your group. Afterwards you head into our spacious party room where you can bring in any type of food you want! Ages 5 and up. 734-223-2819 www.KnockerballMichigan.com
We are open 24/7 by appointment in Livonia, or we can come to your place or a local park! Call or text us anytime! Our mobile hotline is open for questions or to book! 734-223-2819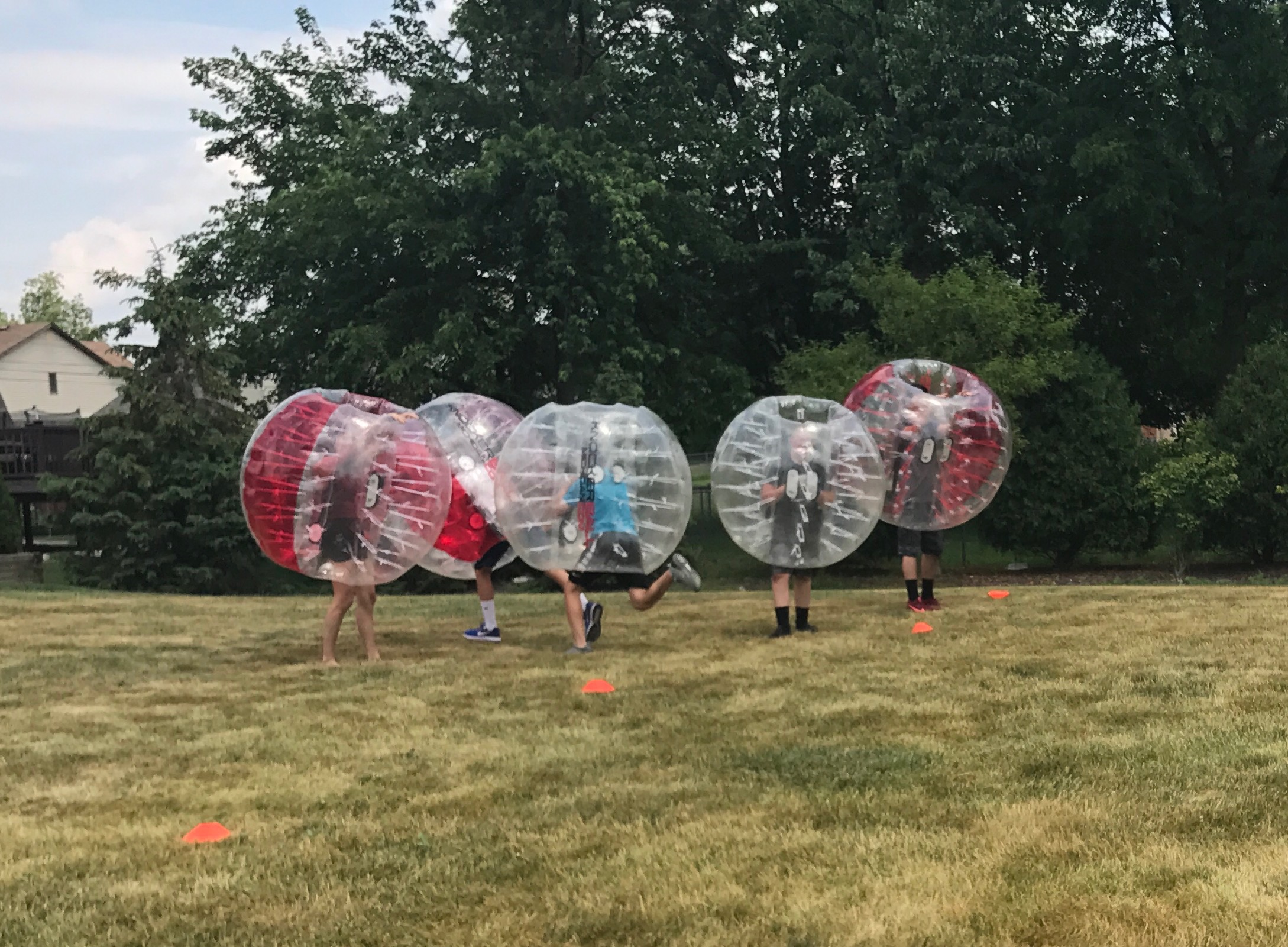 WE CAN BRING THE FUN TO YOU!
We can bring the Knockerballs and a referee to your place or a local park. We set up on a flat piece of grass and referee several different short games that are all awesome!
Offsite Events Pricing
Why Have Your Party Here?

- YOU'LL PLAY ORGANIZED GAMES WITH JUST YOUR GROUP. ALL OF YOUR FIELD TIME IS STRUCTURED AND ORGANIZED. YOUR EVENT COORDINATOR WILL PUT YOU THROUGH GAME AFTER GAME OF NON-STOP ACTION!

- ALL PARTIES ARE PRIVATE, NOT PLAYING WITH WHOEVER ELSE IS THERE

- PACKAGES ARE SOLD BY THE # OF KNOCKERBALLS YOU GET, WITH A RANGE OF PEOPLE ALLOWED, SO YOU DON'T HAVE TO GET AN EXACT COUNT OF WHO IS COMING, OR WORRY ABOUT A TON OF EXTRA CHARGES IF MORE GUESTS SHOW

- PARTY PACKAGES ARE ALLOWED TO BRING IN ANY FOOD THEY WANT. THAT MEANS MORE CHOICES, AND IS GREAT FOR THOSE WITH FOOD ALLERGIES!

- GREAT FOR ADULTS AND KIDS (ages 5 and up)

- LICENSED AND INSURED
You can book our field any day or time by appointment for your next private event!
Field Rates
Don't need a party room? Book just our field to yourself! No sharing with whoever comes, just your group led by an event coordinator. They will take care of everything on the field, including showing your group how to use the equipment, and then facilitating several different games using the Knockerballs. The play host and DJ, and will make your time a hit!
Field rates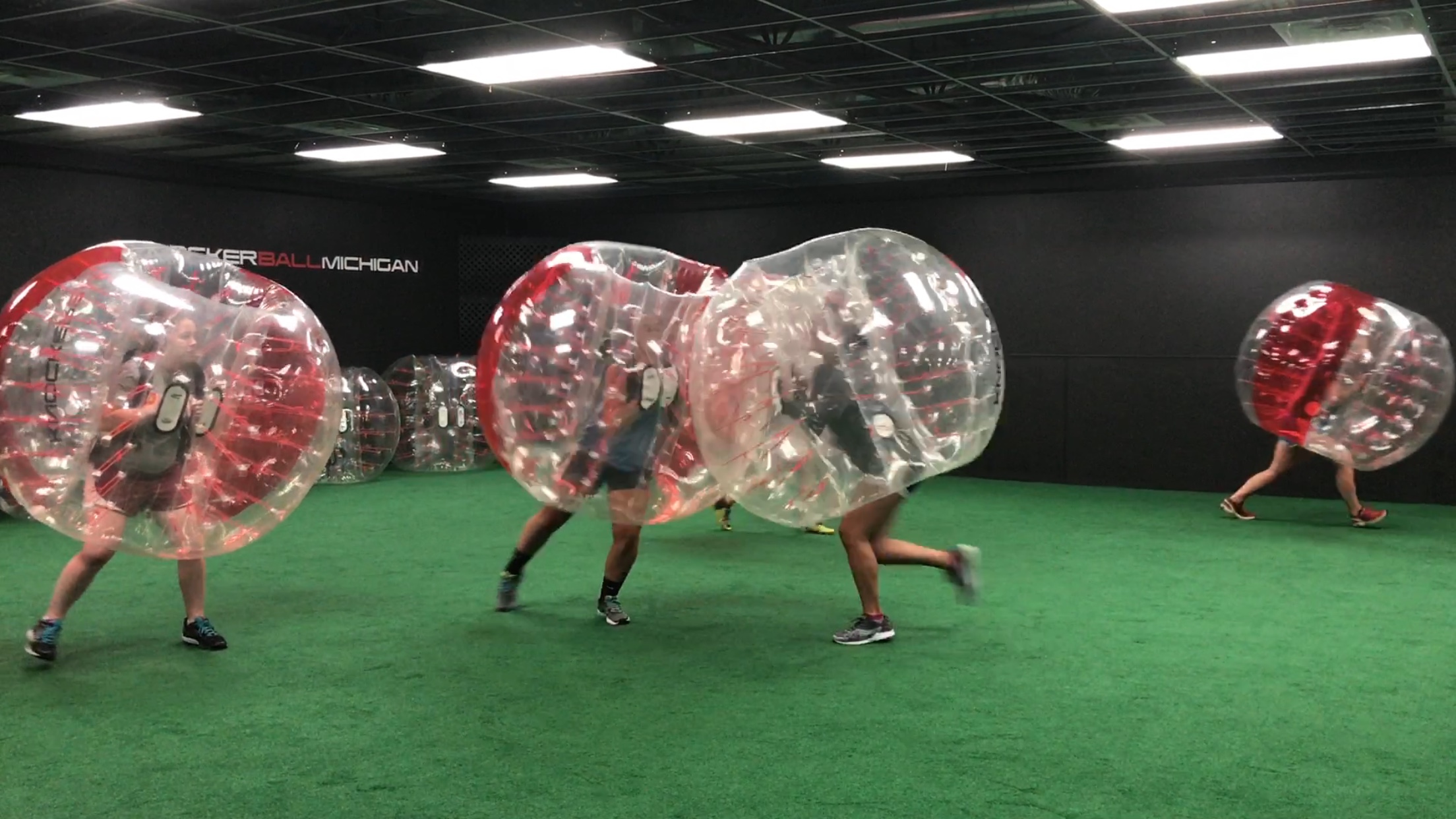 Perfect for:
Adult Birthday's - Kids Birthday's - Team Building - Bachelor Parties - Bachelorette Parties - After Prom - Graduation Party - Field Day - Summer Camps - Churches - Halftime Shows - Pep Rally's - Fundraising - Large Groups - Company Picnic's - Youth Groups - Festivals - Fairs
Or anywhere you need entertainment!
Indoors on a padded turf field in Livonia, or outside at your place, or a local park!
38741 Ann Arbor Rd. Livonia MI 48150
Knockerball at Your Place!
We can bring Knockerball to your backyard, birthday party, baptism, bar-mitzvah, bachelor party, bachelorette party, BBQ, church, school, festival, fair, fundraiser, field day, family reunion, pep-rally, after-prom, tailgate, parade, sporting event, halftime show, piece of grass outside your office building, park in your subdivision, gym, indoor field, football field, soccer field, or really any large piece of flat grass you want play Knockerball on! All parties are led by an event coordinator, who will show your group how to use the equipment, then facilitate several different games using the Knockerballs. We can also facilitate a tournament for you.
Knockerball at your place rates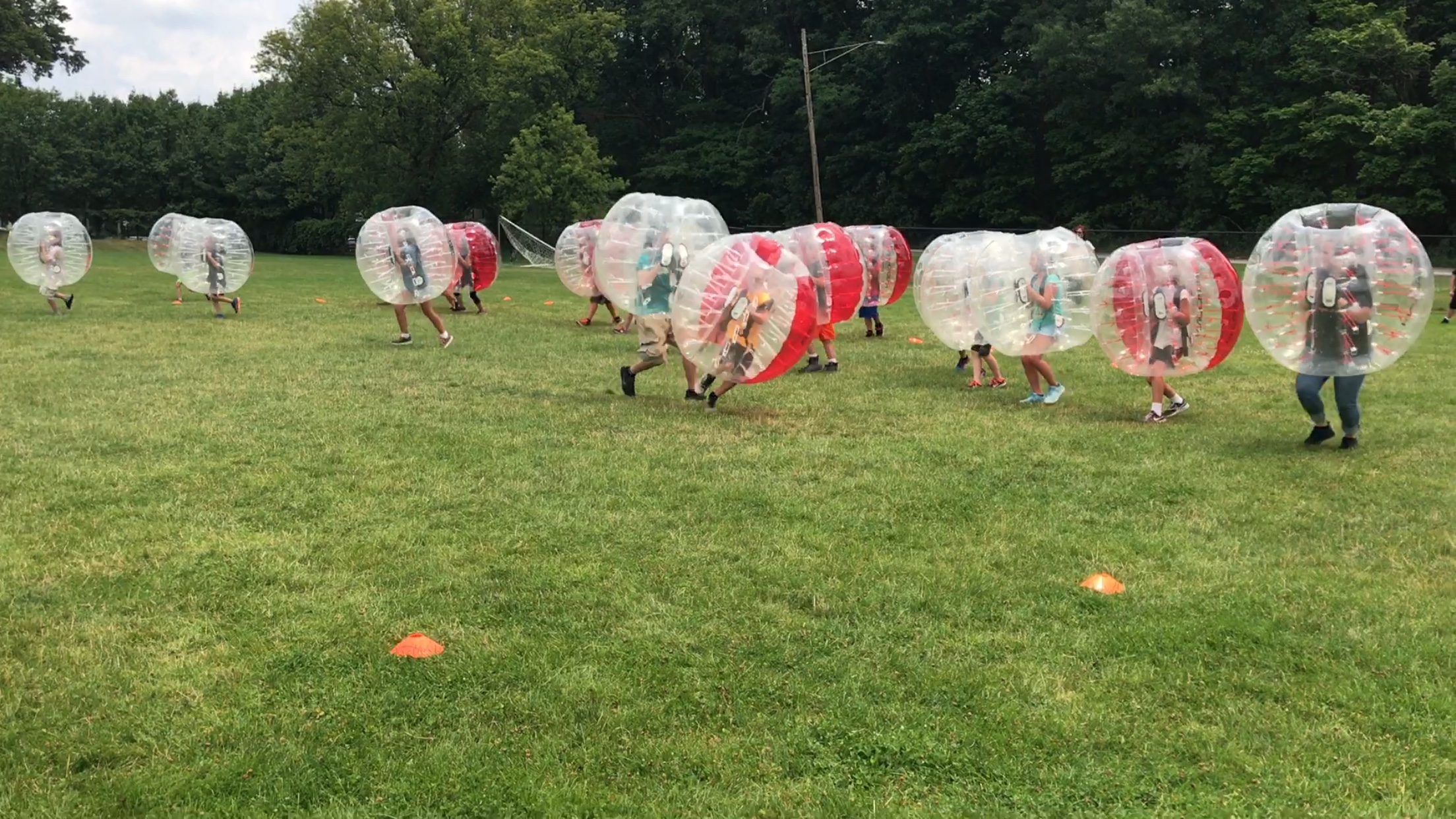 Mega Soccer Darts!
We have a 20' and a 12' version of double sided soccer darts. Two groups and up to four teams can play your favorite darts games like 301, cricket, etc. Comes with 12 velcro soccer balls.
Soccer darts pricing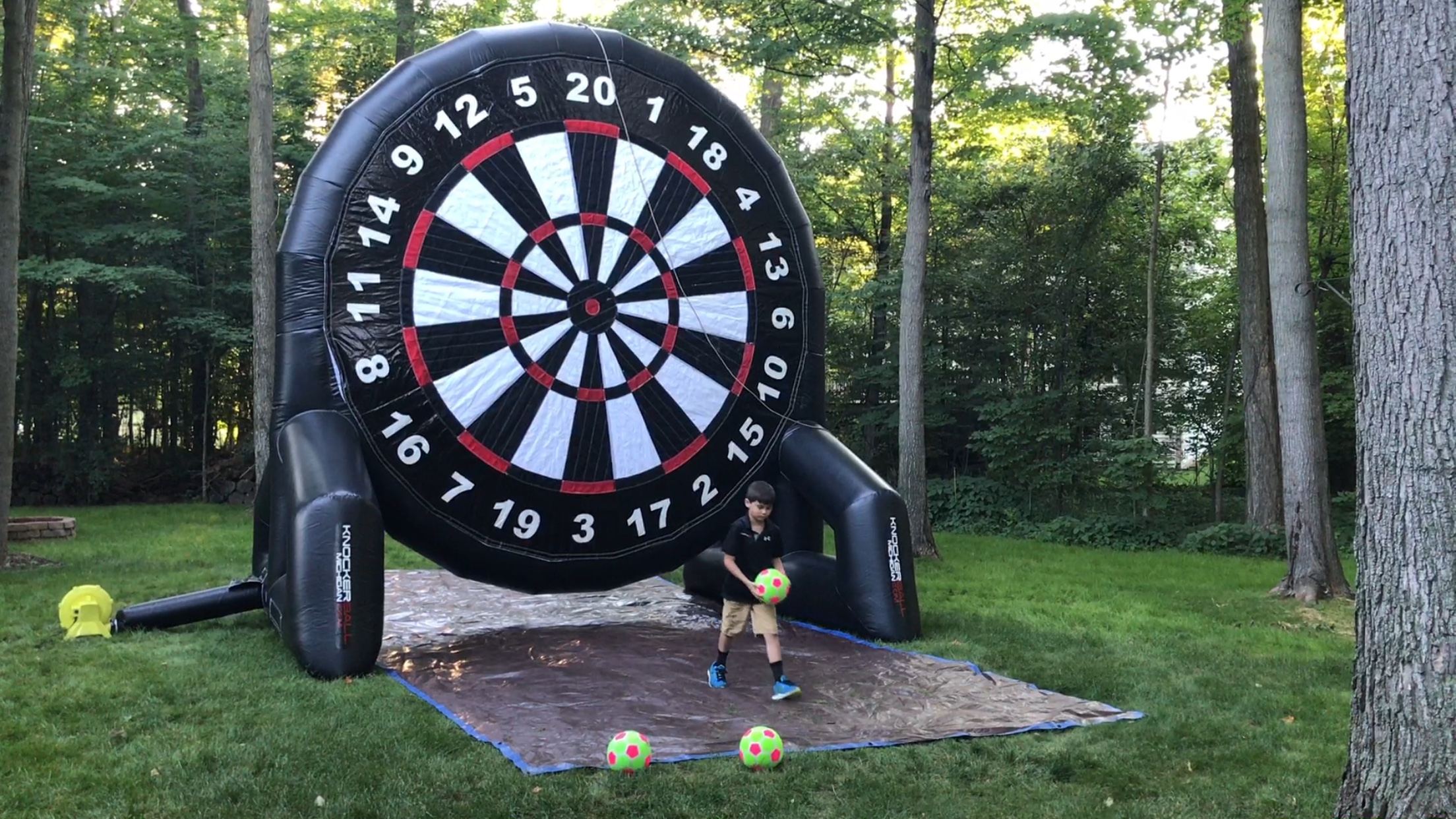 Check out our building in Livonia!
Whatever the group, we give the most exciting party in the state of Michigan!!! Every party is hosted by an event coordinator who will not only show you how to use the equipment, but will put on a show by facilitating several different hilarious games that are almost as fun to watch as they are to play. We play short games and rotate often. Guests not playing will enjoy a fun penalty box to watch and take pictures attached to your very own private field. Then, you'll get 45 minutes in our Large Party room. Perfect for Large groups. Knockerball Michigan is located right off of I-275 in Livonia, at 38741 Ann Arbor Rd.
We also have the newest equipment on the market. Original Knockerballs weighed 36 lbs...The all new design weighs only 9 lbs!
Not only Bubble Soccer....
Your event coordinator has a ton of games to keep the whole event exciting. For large groups or festivals, we have games as short as 2 minutes and can rotate to the next group. If you want a bubble soccer tournament, no problem. In general, they are going to run the entire event, and make sure your group is playing safe and having a blast!
The most fun you will ever have!
We are the best entertainment you can find for your group. Knockerball will attract a crown to play and another crowd to watch. We can help boost your attendance at your event, or we can help your co-workers let out their frustrations the way they always wanted to... by hittng each other! And make no mistake, there is no better birthday party in Michigan!

Your event coordinator will show your group how to use the equipment, and then facilitate several different games including:

Bubble Soccer
Musical Knockerballs (indoor only)
Capture The Flag
Battle Pods (indoor only)
Sharks vs. Minnows
Secret Service
King Of The Ring
Bubble Football
Located at 38741 Ann Arbor Rd. Livonia MI 48150. 1/4 mile east of I-275 on the Plymouth/Livonia border. We open anytime by apointment, and have open play times several nights a week as well. Book us for your next special event, or just to let off some steam with friends! You can rent just the field, a package with the field and then the party room, or our entire building. All Knockerball play is supervised and organized by an event coordinator who show you how to use the equipment, and then lead your group through several different games that are as fun to watch as they are to play!
Half-time shows and pep rallies at their finest!
The crowd will be laughing and cheering the whole time! We have several different games we can play depending on the circumstances and what you want. We can cater to your needs to make an exciting half time show that everyone will remember and record! We can also allow the crowd to play afterward or before for only $5!
Add on Mega Connect 4 for only $79 to any party!